This post originally appeared at Active History. As always, please leave comments at the original.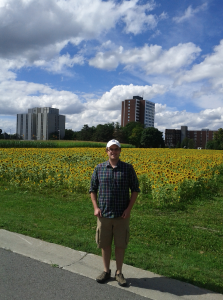 Pete Anderson posing near the threatened experimental plots with the Civic Hospital in the background. Photo credit: Laura Cameron.
On November 3
rd
, 

John Baird announced
that Agriculture and Agri-Food Canada transferred approximately 24 hectares (60 acres) of the Central Experimental Farm, in Ottawa, to the National Capital Commission. The NCC in turn offered to lease the land to the Ottawa Hospital to build a new Civic Campus
.
The Hospital then mused
about the using this new land as a parking lot
.